As many of you must have heard, Lee McQueen, designer and founder of Alexander McQueen, was found dead in his home this morning. He committed suicide after his mother died on February 2nd. At age 40, he was so young. This came as a total and complete
shock
to me. Wow... This was the death of a fashion
god
. On
AlexanderMcQueen.com
, it says that his family has asked for privacy in this time of grief. I understand that completely. Wow.
Here are some of my favorites from this talented designer.
This photo reminds me of Marie Antoinette. The beautiful pale skin, light hair, and most of all, the wonderful dresses.
Lady Gaga in Bad Romance. Very cool.
Another Bad Romance picture.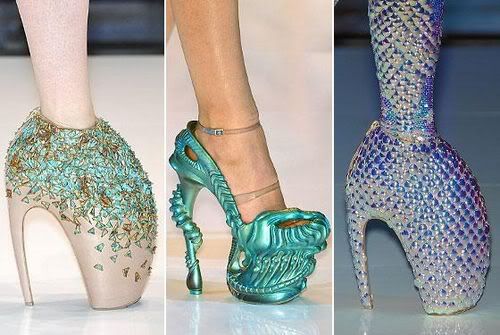 Influential and painful-looking shoes. The ones on the left are what I used for my profile picture.
R.I.P., McQueen.